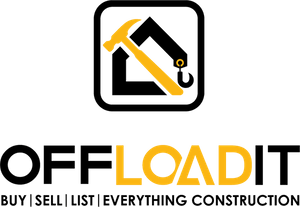 OFFLOADIT is an App/Website that brings contractors together to buy and sell their excess materials and used equipment. BUILT by Contractors FOR Contractors. Our team understands your need to improve your bottom line, clear out your yard and reduce waste. OFFLOADIT has finally bridged the gap and created a solution for many industries.
Our app is designed for all contractors in commercial, residential, industrial, manufacturing, farming and marine contracting. We founded OFFLOADIT in the Bay Area and are eager to assist contractors in California and nationwide. Simple, clean, and easy to navigate. Download the OFFLOADIT App today! (Available in the Apple and Android stores soon!)
Used Construction Equipment App

Free to download and available for residential and commercial contractors.
Buy new and used construction materials, machinery & equipment at a fraction of the cost.
Simple to navigate, search, connect & chat, then purchase in a few minutes.

OFFLOAD your excess, unused materials and equipment that have been cluttering up your sites, yards ,shops & garages for years. Make money and reduce waste when you sell with OFFLOADIT!
WHO WE ARE...AND WHY
We are just like you and have been in the Construction fields for decades. The waste and excess of material we saw and experienced can be difficult to manage. With our pursuit of global environmental sustainability, we have created a network specifically designed for Contractors in a wide range of fields and focuses to buy, sell and repurpose with ease.
Our App combines a simple and effective way to filter your search, find great deals, and have a user-friendly interface to do it all. 100's of categories to search & filter, connect, then buy or sell.
OFFLOADIT is coming soon, get ready to experience an amazing new way to interact via our App.